* Figures intended for comparisons between vehicles and may not reflect real driving results. WLTP Extra High (motorway) - WLTP Overall figures shown. Up to 293 - 372 mile range. WLTP Test Result
What affects range?
There are three main factors that can affect the driving range of the Mustang Mach-E:

Heavy acceleration and high speeds
- In any type of vehicle, accelerating fast will use more power and reduce range. This applies to Internal Combustion Engines (ICE) and Electric Vehicles (EV).
- Likewise, faster speeds create exponentially more wind and road resistance, impacting on range.

Climate and temperature
- Extreme heat or cold temperatures outside have the potential to affect battery range, directly. All electric vehicles (EV's) have less energy when in cold temperatures compared to warm temperatures due to battery cell chemistry.
- Heating and cooling the inside of the vehicle for passenger comfort also has an impact.

Regenerative braking
- Regenerative braking can capture and reuse more than 90% of the braking energy improving the efficiency of the battery and extending the battery range.
How to improve range
These tips will help keep you comfortable and relaxed about the range of your Electric Vehicle:

- Pre-condition the vehicle. Set the departure time to warm the cabin and the battery while the vehicle is still plugged in. Use the FordPass App or the Mustang Mach-E's touchscreen.

- If possible, always keep the Electric Vehicle plugged in whenever it is parked. In cold weather, even trickle charging will help the vehicle to keep the temperature of its battery optimised.

- Avoid using high-power, fast charging (DC) after short driving distances. The battery needs time to heat up, under normal driving conditions, to be able to accept high charge power. Not giving your battery time to condition will impact charging performance.

- Ensure tyres are at the correct pressure. Under inflated tyres can affect the rolling road resistance and therefore increase drag, impacting on energy consumption. The wrong pressure will also affect the tyres' grip on snowy and icy roads. Winter tyres are recommended where necessary.

- Set the climate control to create a comfortable but moderate ambient temperature. It is more efficient to maintain a consistent temperature than it is to keep turning climate control on and off, heating up the cabin before letting it cool down again.

- Rather than use heating and ventilation to warm up the whole cabin, use the heated seats and steering wheel as primary local heat sources for the passengers. These consume far less energy.
Ford BlueCruise
Bringing you hands-free motorway driving
Our vision for the future just accelerated with Ford BlueCruise, our latest innovation in Advanced Driver Assistance technology - the first of its kind in Europe. Mustang Mach-E owners can now enter a new era of mobility, and be the first to experience L2 hands-free driving in designated 'Blue Zones'.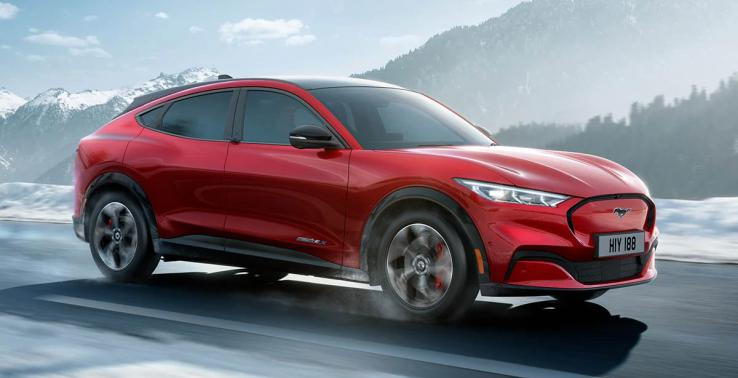 AWD Capability
Advanced electric dual-motor AWD raises the game. An electric motor on the front and rear axle enhances performance and helps you tackle more challenging driving conditions.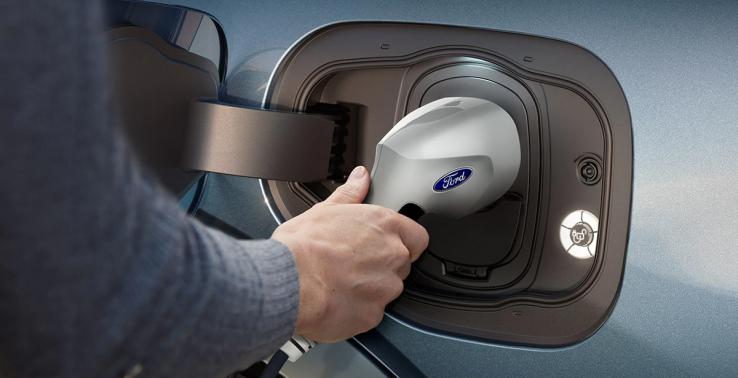 £1000 a year fuel saving
Typical saving of £1,344 based on 12,500 miles per annum, fuel economy 36.7mpg (7.7L/100km), fuel cost £1.28/litre, domestic electricity cost of £0.19/kWh, an energy consumption of 16.5 kWh/100 km and all charging carried out at home.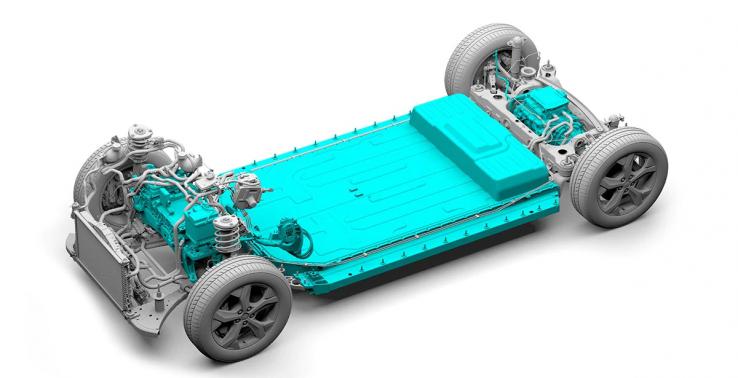 Scheduled Servicing - Over 50% saving
Electric vehicles have fewer moving parts, which means lower scheduled servicing costs.

With fewer moving parts and Ford's all-electric SUV 8-year battery warranty, electric vehicle owners can save more than 50% over 5 years/60,000 miles, compared to traditional fuel vehicles.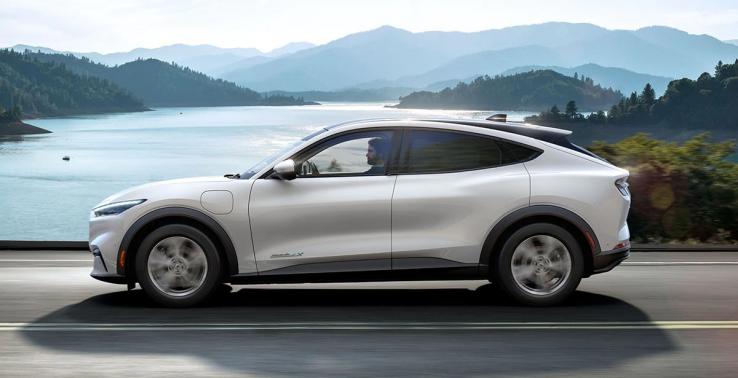 Road Tax and Other Savings
Compared to an equivalent petrol SUV, an all-electric SUV could save you £145 of Road tax per year.

Electric Vehicles are also exempt from the £320 2nd year additional VED for vehicles costing over £40,000.

Zero emission electric vehicles can help you avoid congestion charges and tolls. Check your government and local authority websites to find out more.

In many cities that are passionate about reducing emissions, electric vehicles enjoy free or lower-cost parking and charging.
REQUEST MORE INFORMATION / CONTACT
Name*
Telephone
Email*
Series
Message*
Send enquiry to
MUSTANG MACH-E Brochure >
Downloadable MUSTANG MACH-E brochure coming soon